Intuitive Healer | Spiritual Mentor
---
Treat Your Soul – Silence
A New Event for for Heart-Centered Individuals
to Activate their DNA for Health, Clarity & Peace
When we tap into the frequency of the Divine Self, we create:
Physical health
Emotional flow
Fulfilling relationships
Our Heart's Desires
The Divine Self is the unconditionally loving, whole, and wise dimension of ourselves. All that is required is a shift in perception to activate this presence in our physical body and waking consciousness. Every time we do this, we align our vibration with this innate intelligence – in turn it transforms our lives!
Spots are now open for this Healing Activation
We know that the food we eat affects our health and how good we feel. What about feeding our mind and soul?
Modern society does little to remind us of need to nourish our true nature. We get distracted by our physicality and often forget the Spirit within. "If I work hard and carry out these steps, I can achieve my goals, right?" Maybe. It might be a long time though.
This way of thinking doesn't take into mind what limiting beliefs or trauma effects could be slowing us down, sabotaging our efforts. We go day to day on autopilot and don't stop to ask what our heart wants or how our intuition wants to guide us. Living out of tune with our inner guidance can leave us feeling detached, drained and anxious.
What's the way out?
There is no one right way for everyone to create a life that feels fulfilling. The amazing thing is that we all have an inner healer/guidance system.
This is the Divine Self!
Our Divine Self has a widened perspective that can provide us with the unique elixir of energy and information that we require in each moment. With every Divine Self Activation we peel off the layers that block us from our goals and strengthen our connection with our inner healer/guidance.
As our energy field strengthens, we come into vibrational alignment with experiences that lead us down the path of our heart's desires. In this way Divine Self Activation transforms lives!
This Monthly webinar event is live on OCtober 5th, 2021.
October 5th – Silence, Who are we in silence (Crown chakra)
 November 3rd – Water, Flow of emotions (Sacral Chakra)

(Check out this video on what Divine Self Activations can do for you.)
My PROMISE TO YOU
You'll start retrieving your energy and directing it towards your Heart's Desires!
Where: Zoom Event, replays available
Each Divine Self Activation Value: ($75/activation)
You Invest: $27/month (When you sign up, you have access to the library of replays – that's 5 activations so far!)
Message afua@renewedspirit.ca for any issues with check out.
Amazing Value to Tap into the Wisdom and healing of your Divine Self!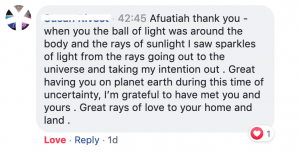 ---